This week we interview Biotox!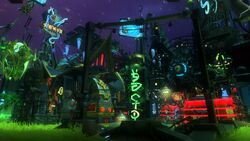 Character's name: Biotox
Server: Warhound (previously Pergo)
Faction: Dominion
Crib name: Bios Vegas Sky Bar
What was the inspiration for your crib?
Well one of the first things I ever made on my plot was a Sky Bar, but I didn't have a real theme to build off of so i just had random items scattered about. Then oddly enough I was watching Vegas Vacation, and during the scene where they are driving down the Strip I just happened to look at a Giant Crowded Grave I had on my plot, and it just hit me to create a Vegas themed plot, with the feel an amusement park. Basically how I feel Vegas would be like, Neon Lights, Gambling, Drinking, just a Good Ol' Time.

What was the hardest part of making your home?
When I fist started building I wanted to make my plot look as full as I could without hindering the flow of moving around on my plot, and battling with keeping items inside the building area on the map. When I was setting up my Crowded Graves around my entire plot I received Hundreds of Red lines telling me "Housing Error: Invalid position" After that everything actually went quite smooth, other than hunting in the AH for hours trying to find the items I needed to build things like my Bowling Ally, Pool Table, or VIP Lounge.

What item or plot were/are you most looking forward to getting?
Unless they increase the decor limit, I'm currently at the max i can do outside my house, On the inside I can't really name just one item because I'm currently trying to figure out a way to make a slot machine.
Of all the Decor items or FabKits you have seen or used, what is your favorite?
This is an extremely hard question to answer... It's so hard to choose a favorite item in my plot. On the outside it would have to be my Whirlwind FabKit, because I have to have it to get up to my Skybar plus its fun to just mess around in, but on the inside it's a tie between my Bowling Ally, and my Pool Table. I had to make both of them from scratch and it took forever to get them perfect.

If you could have one item in your house or on your plot that you have NOT seen, what would it be?
It would have to be a working slot machine, I'm currently trying to figure out a way to make one, but i would love for one to be put in the game that you could actually use.
---
If you would like to see your crib featured, head on over to our forum and submit today!
Community content is available under
CC-BY-SA
unless otherwise noted.