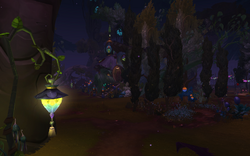 Character's name: Doom Kitty
Server: Entity
Faction: Exiles
Crib name: The Night Garden

What was the inspiration for your crib?
I really wanted create a blend of 'creepy/cute', gothic Aurin place. Then as I leveled architect and opened up new decor through zone reps, it evolved into this kind of lush, bohemian garden, with a tea house, Dia de los Muertos style altar in the graveyard, and flowers everywhere. It's not at all what I first set out to do, but I'm thrilled with it!
What item or plot were/are you most looking forward to getting?
That changed for me a few times. The first item I fell in love with was the gothic floor lamp. I saw it on the AH and thought it was amazing looking - very "Addams family". After that, it was the Webbed Wood FABkit because it's so well designed as a decor plug. My latest obsession though is collecting leaning creeptrees for an alt's plot - I love the glowing fairylights on the bare branches, and it looks awesome in a dark sky.

Of all the Decor items or FabKits you have seen or used, what is your favorite?
It's really hard to choose just one! I love the ferris wheel, in the right setting it can look spectacular. The Lopp Party has all those colorful lanterns. The Tiki Bar is so pretty! And the spooky graveyard and webbed wood are aesthetically amazing. I think my absolute favorite is the Hot Springs, it just so gorgeous!

If you could have one item in your house or on your plot that you have NOT seen, what would it be?
Definitely a tea set, if they decide to make one, and baked goods like cupcakes or scones or cookies on a plate. I think a simple silver tea set - as one decor piece or separate items - would be so perfect to have! Whether it's a Cassian mansion, or a Victorian-esque Mordesh home, or an Aurin tea room, it would wonderful to have!
---
If you would like to see your crib featured, head on over to our forum and submit today!
Community content is available under
CC-BY-SA
unless otherwise noted.