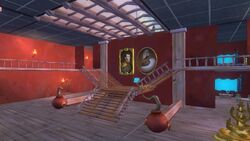 Character's name: ProfAlgernonDowning
Server: Warhound (Previously Bloodsworn)
Faction: Exiles
Crib name: Downing Academy at Thayd
What was the inspiration for your crib?
I was hoping to create a place of learning, both of the mind and of the body. inside are classrooms and labs, where outside are training courses.
What was the hardest part of making your home?
The hardest part was making it not feel empty! I had to make the inside a certain height (so it would encompass both the height of the house and the science lab) and a certain width (so it would encompass the 3 plots I intended it to). this required height and width, when filled with only 300 items, has a strong chance of being under-decorated. and at first it was exactly that. but through careful manipulation and clever rearranging, I filled the space while sticking to the 300 decor limit.
What item or plot were/are you most looking forward to getting?
I'd have to say the plot item I was most looking forward to was the science lab FABkit. I modeled my toon after a lore hunting scientist, therefore the lab became kind of the holy grail (albeit more easily attained, lol) for housing. It was only after I placed it that I realized it had flasks to randomly change you into different animals, and I loved it even more :)
Of all the Decor items or FabKits you have seen or used, what is your favorite?
I'd say my favorite plot item to date is probably the protostar hazard training course. It's the hardest challenge I've ever completed (housing or larger game world) and it never gets old. It really tests your dodging skills, really makes you think and plan your movements.

If you could have one item in your house or on your plot that you have NOT seen, what would it be?
I honestly can't think of an item I'd like to see created and included in future housing, as far as furthering the motif I've got going here. I was able to include every aspect of my design that I wanted, and anything that wasn't readily available (secretaries desk, ping pong table, etc...) I just built myself out of other decor items.
---
If you would like to see your crib featured, head on over to our forum and submit today!
Community content is available under
CC-BY-SA
unless otherwise noted.