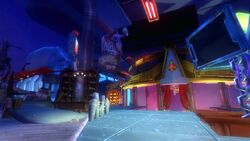 Character's name: Rusko
Server: Bloodsworn
Faction: Exiles
Crib name: GigaJoule Station
What was the inspiration for your crib?
I wanted to create a space station that was half shipping hub, half commercial center. It started with wanting to create a sort of space dock, and I had a million things on the platforms on the storage level, but eventually I decided I wanted something that was a little prettier so I started making what is basically a mall.
What was the hardest part of making your home?
Balacing detail with the 300 decor limit. That and the fact that this character is only level 15. My main had a house already, and I wanted a completely blank plot to work with so I had to mail all the mats for architecture over from my main. As a result, my architecture is way beyond where it should be at level 15.
What item or plot were/are you most looking forward to getting?
Exile Barrier. As soon as I saw it, I thought of a hundred different things I could do with it but I currently only use them to make a store canopy and a column of storage units.
Of all the Decor items or FabKits you have seen or used, what is your favorite?
The bot analyzer. This is also probably the one I've gotten the most questions on. I tried to create a Protostar outlet in the station, so to create the the building around it I scaled a bot analyzer up and put it on its side and now its my favorite piece in the whole plot.
---
If you would like to see your crib featured, head on over to our forum and submit today!
Community content is available under
CC-BY-SA
unless otherwise noted.