Answers are below the pic!
With the Strain Ultradrop imminent, we wanted to gather any and all questions you might want to ask of Carbine Studios and the developers who put together this giant monstrosity that threatens Nexus!
Don't know what the Strain is? Check out our lore page for more infos; you can also head to our Ultradrop page to read up on what new features are coming. It ranges from a new zone to a new adventure, new housing items to new Strain-inspired armor, from a new grotesque hoverboard to additional mount customization! Not to mention a beast popping right out of your chest...
Don't forget that the PTR for the Ultradrop is currently running. You can find more information on how to download and enter it here.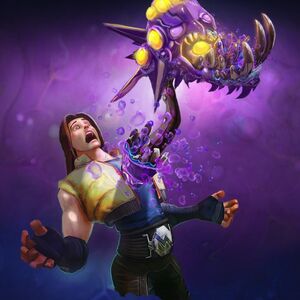 Answers
Courtesy Stephan Frost, Design Producer
Will this be permanently added to ws, or only stay for a month's time?
Blighthaven and Northern Wastes are permanent additions to WildStar. They aren't going anywhere! Same with the Strain costume, mount variations, and emote.
How long has it taken to develop The Strain? Was it originally planned to be in for launch? Or did you want to have something "in your pocket" ?
We've known about the strain for a loooooong time. They've been in development for years as part of the story.
Will lower-level characters be able to participate and earn all the goodies, or do we need to be max-level?
The player needs to be max level to play through Blighthaven, as it is max level content.
Any chance of Power by Proxy getting fixed, so I can finish the story quests before the drop?
This is on our "Live Response" team's to-do list. However (obviously) the fix won't be in by the patch.
---
---
Community content is available under
CC-BY-SA
unless otherwise noted.